MuseoFerrara is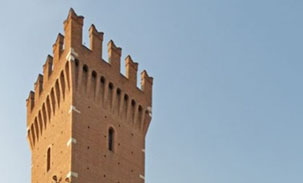 A museum: why?
MuseoFerrara was launched because Ferrara didn't have a city museum. However, it wasn't simply a question of not having one. Rather, it was a question of feeling the need for such an entity.
We felt the need to create a place where people could access knowledge about the present city and to discover how, why and when it came to be.
The need to help us truly 'see' the people, traces and clues of the past through the city in its current state.
The need to raise awareness about Ferrara and its history. The need to involve citizens in the choices made about its future, based on a better understanding of the places and knowledge which they bear witness to.
For all these reasons, MuseoFerrara was designed to simultaneously protect the urban heritage of Ferrara and encourage active citizenship.
A new kind of museum
MuseoFerrara was inspired by MuseoTorino, a new kind of structure, quite different from traditional city museums. It is both a physical museum and a virtual one, whose collection is the city itself, considering both its historical heritage (to be preserved and interpreted), and the constantly-changing and developing living organism that it has become in modern times.
In terms of the city, MuseoFerrara aims to preserve, increase, document and convey knowledge. Its heritage includes contemporary places and spaces in which the city's intricate past is discoverable in the form of signs, traces and clues - some more visible than others. These are then placed in relation to the people that designed, built, inhabited, saw and represented them, coinciding with historic events they were both actors in and witnesses to. In so doing, we tease out a visible city, the civitas, the living city, through the urbs.
A museum of the city over time, MuseoFerrara aims to promote an understanding of and awareness about Ferrara, thereby helping build its future.
A 'dispersed' museum
MuseoFerrara is a 'dispersed' museum made of the artefacts, places, buildings, spaces, sites and landscapes (both natural and man-made) that constitute the city and the surrounding territory, interpreted and conveyed
as a single system through a set of tools (learning centres, a website, social media, printed materials, signs, etc.) that ensure its identification, accessibility and comprehension.
A museum-website
MuseoFerrara is a museum-website, designed and organized like a museum, developed through the use of next-gen technological platforms.
Within it, users can virtually explore the city, finding information about local sites, their history, the people that lived there, the events they witnessed, and contemporary and historic images that represent them.
MuseoFerrara is also set up as an access portal for news and information about the city, while also referring to the entities and institutes that preserve and produce knowledge about the it.
A participatory museum
MuseoFerrara is meant to be a museum not just for all, but by all.
It's a city project that arose in a participatory form, involving the municipal administration, local entities and protection authorities, museums, research institutes, cultural associations, organizations and businesses.
useoFerrrara was created and continues to grow thanks to the continuous development of a strong network of partners. The goal is to involve organizations and people through agreements and protocols of understanding in various projects.
A museum for all
MuseoFerrara is for everyone. First, the museum is aimed at local residents, the initial, natural target audience for knowledge about the city that each citizen is, in small or large part, a bearer.
It is for them that MuseoFerrara is meant to be a place of discovery and information. But MuseoFerrara is also a place where information about the city and its history converge, to share and distribute this existing knowledge, often not easily accessed by all.
MuseoFerrara is thus also intended for the city's visitors and guests, presenting and reconstructing historic changes via information that helps guide itineraries to explore Ferrara, conveying a sense of belonging and shared responsibility.
A museum-process
Like the city itself, a city museum is one that grows and evolves to the rhythm of change. MuseoFerrara has deliberately opened in an embryonic stage, somewhat like an early research site. From there, it will be built, day after day, before our eyes thanks to the collaboration of all.
The logical and technological foundations upon which to erect the structure, based on the pilot experience of MuseoTorino, have been adapted and tested through a research site dedicated to Jewish life in Ferrara, which led to the cataloguing of 100 initial historic moments.
The museum-website embodies the work that has been done and that which is yet to come. With the presences and absences that characterize it, the museum-website offers guidelines for potential future developments. Developments entrusted to the will and the possibilities of the municipal administration, but also, and perhaps most importantly, to those who make their own personal contribution, sure of the importance and usefulness of active participation.
MuseoFerrara online
Like MuseoTorino, MuseoFerrara has implemented features characteristic of what is known as Web 3.0 and the Semantic Web.
Applying the most recent standards (RDFa and Open Graph) to the structure and databases within the system makes it possible for web search engines (like Google) and social networking sites (like Facebook) to distinguish terms by their meaning, based on their context. Using shared semantics, all content on the MuseoFerrara website can be associated to all other content found on the web.
Designed according to the idea of Linked Open Data, the MuseoFerrara website is based on innovative technology that facilitates the sharing of information with users and other systems, aiming to provide the most open and accessible database possible.
For this reason, during the planning phase, the ability to access the information stored within MuseoFerrara via external systems, able to process data independently from the site itself, was given great importance.
Thanks to the City of Turin, a good part of the text that describes the MuseoFerrara's mission and premise was taken from MuseoTorino, whose software MuseoFerrara has adopted, sharing its methods and goals.