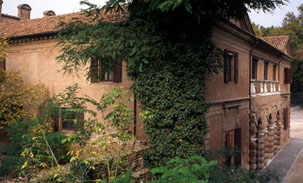 Board


A project by the
Città di Ferrara 

Proposed by
Daniele Jalla 

Mayor
Tiziano Tagliani 

Culture and Tourism Councillor
Massimo Maisto

Director
Giovanni Lenzerini 

Project coordination
Maria Teresa Pinna 

Technical Secretary
Sara Conforti 

Ferrara Municipal Scientific Committee
Ancient Art and Historic-Scientific Museum Services
Modern and Contemporary Art Gallery Unit
Library and Archive Services
Cultural Services Sector 
Ferrara Arte
Municipal Theatre Foundation of Ferrara 
Institute of Contemporary History 

Scientific consultancy for the project
Paola Elena Boccalatte

With the collaboration of
Anna Maria Quarzi, Sharon Reichel, Federica Pezzoli, Edoardo Moretti

Software design and development
21Style: Gian Luca Farina Perseu

Hosting
21Style: Gian Luca Farina Perseu

Data entry
Simona Cappelli

With the support of
The Civic Network of the Municipality of Ferrara

City Museums Coordination Working Group
In 2010, the Municipality of Ferrara established a Consultancy Working Group promoted by the Culture and Tourism Office, with the goal of involving the directors of the museums of the city of Ferrara, civic museums, state museums, provincial museums, the Museum of the Jewish Community in Ferrara, and the museums of the University of Ferrara. The group is a place for discussion and consultation dedicated to the enhancement of the architectural, environmental and museum heritage of the city, a place where administrators can present their political plans, priorities and strategies, and start a discussion with professionals. The wide-reaching, diverse professionals that are part of it (curators, conservators, tourism and marketing experts) make it possible to proceed with projects that, while respecting the need for conservation, enhance local heritage not only for the city's intrinsic cultural value, but also in terms of the promotion of Ferrara as a tourist destination rich with art and culture, characterized in the collective imagination by its monuments, temporary exhibits and events. Within the coordination working group, large projects have been shared, such as the MyFe tourist card and MuseoFerrara, with the support of all involved.
MuseoFerrara: the first step in a participatory process
MuseoFerrara is the result of collaboration between the municipal administrations of Turin and Ferrara. The experience gained from the 'research yard' of MuseoTorino was a point of reference that guided the Municipality of Ferrara as it planned and realized the first nucleus of this project, which we have great ambitions for in the future. The Municipality of Turin allowed the city of Ferrara to refer not only to the original design and its contents, but also provided the tools that ensure this experience will be able to take its first steps. MuseoFerrara thus begins with a first 'research site' dedicated to historic traces (architecture, urban planning, documentation) of the Jewish community in Ferrara, which aims to make the signs that the city holds within its streets, buildings an monuments clearly visible and identifiable. This first nucleus will be joined by a wide range of 'research sites' coordinated by the MuseoFerrara Scientific Committee, which will launch collaborations with institutions, cultural associations, services, offices and professionals involved in the lively cultural soul of the city.
Ferrara, 02/08/2019